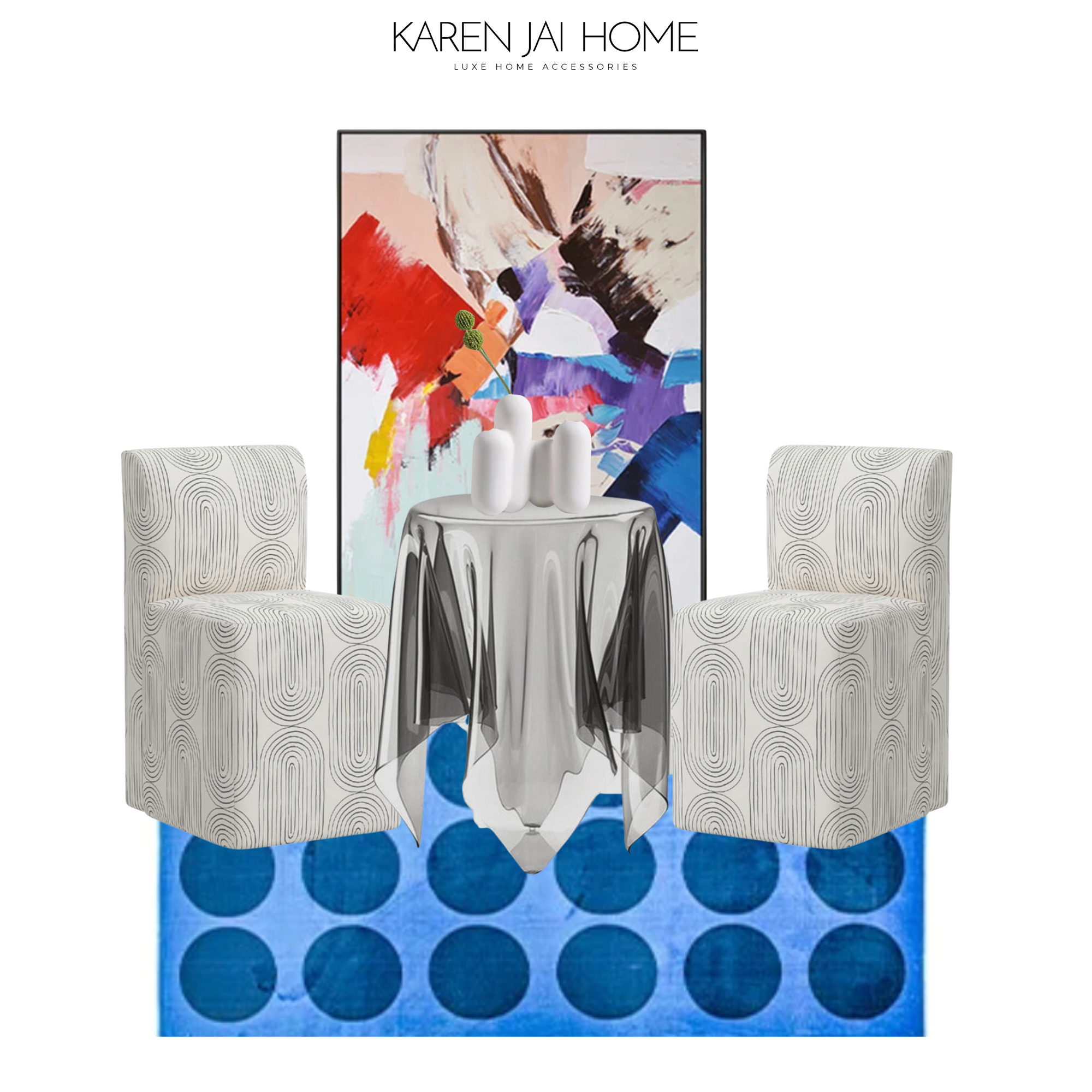 Edessa Room - Get the Room
Create an inviting atmosphere with the Edessa Room! Enjoy the durable Aomori Dining chair, the stylish Volos Table, the unique Tomar Wall Art, the vibrant Salta Rug, and the eye-catching Ipiales Vase - all coming together to make your room one-of-a-kind! Get the room you've been dreaming of!
Includes: (2) Aomori Dining Chair + Volos Table + Tomar Wall Art + Salta Rug + Ipiales Vase
Edessa Room - Get the Room
FAQ
Where do your products ship from?
We have 3 distribution centers in the U.S and one overseas. 
Can you overnight or express ship products?
Yes! The product's eligibility for expedited or rush shipping is noted in the description. Expedited shipping reduces the shipping time by 2 weeks. Please send us an email at support@karenjaihome.com with any questions regarding specific ship times.
When will I be charged for my order?
We do not initiate preauthorizations. You will be charged for your order at checkout. Expect to see a credit or debit charge immediately.
I'd like to send this item as a gift. What should I do?
The intergrity of your gift is always protected. We do not included pricing on any orders or packing slips. If you would like to include a special note, please email us so we can create a custom gift note.
Shipping
Order Processing Time
Please see the estimated delivery for each product in the product description. Some products and inventory will proces, ship and deliver within 30-35 business days from the shipping confirmation.
Please note, your order may be shipped in multiple packages.
Order tracking
Please email us if you have trouble locating your tracking details. As a note, most orders are sent via UPS. You can always copy and paste your tracking number to the site directly. You may also TRACK YOUR ORDER HERE.
Get in touch
For issues or concerns with your order, please email support@karenjaihome.com or join our VIP Membership for SMS text support.